'Well I've never played a moon Nazi before.'  Julia Dietze – Iron Sky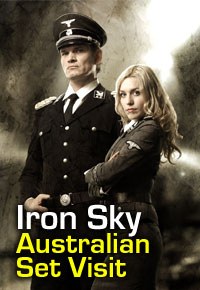 The Iron Sky movie has been in my peripheral vision for a while. I've seen it mentioned in interweb dispatches, and the producers and publicist were present at Supanova last year. However, the opportunity to go to the press day at Village Roadshow on the Gold Coast brought the whole project into sharp focus for me.
The conception and gestation of this Finnish-German-Australian movie collaboration can be read about here. The key word to understanding it  though is 'crowdsourcing'. In a donger at the back of the Roadshow allotment, producers Mark and Cathy Overett and Tero Kaukomaa, and Jarmo Puskala, told us anecdotes about how the already solid fan base are providing them with film extras, materials for filming, information on location, and the big one, MONEY. I million Euros of the 6.8 million Euros budget will be fan funded, and it seems the fans are reveling in their participation. At last count their Facebook membership was 33,000 and YouTube followers numbered 60,000. Iron Sky is surfing high on a wave of fan participation. And to that I say, hooray!
To complete the New Media approach, this project runs monthly real time documentaries where they visit the different departments (art, costume etc) and the crew publishes shorter video diaries on a daily basis. Iron Sky will have three prequel comics and a graphic novel of the Iron Sky story created by Gerry Kissell (A Team comic adaption). Then there'll be the TV novelisation (wish they'd asked me to write it!), and there's a video game under development for PC. Finally, there'll be mobile platform content floating around.  (Oh, and in my press kit I scored a rather cool mouse pad!)
Setting aside all the promo and marketing, what was it like? My impression was of a bunch of professionals really enjoying what they were doing. There was an evident camaraderie between the Finnish and Australian contingent and the project appears to be founded on belief and fun. From the look of the trailer (and the amazing steampunk props I caught glimpses of), the production values are punching way above their budget weight. This is a good looking movie in so many ways.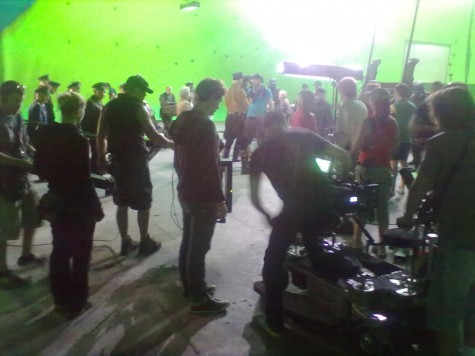 Julia Dietze, one of the lead actors, sparkled her way through question time in the very unglamorous Roadshow tearoom. When asked by someone if she'd been in any other SF films, she answered smartly with, 'Well I've never played a moon Nazi before.'
A trip onto set while they were filming revealed a giant green screen, a bunch of grey-garbed Nazi extras, and what a fabulous evil Fuhrer Udo Kier makes.  Details of the film are under close wraps but they complete filming soon and head into an extended period of post production (12 months) due to the amount of CGI. It's been a long wait period for the fans, and it's not over yet. But after my Iron Sky day, I'd lay my money on it being worth it.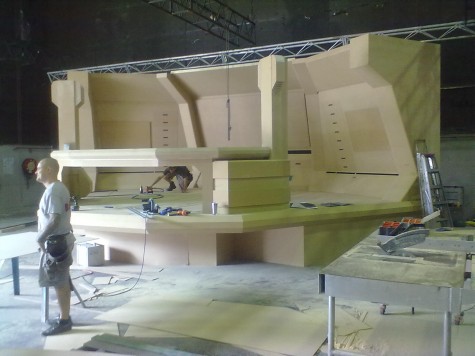 This article is also published at (Cool) Shite on the Tube with thanks to Bruce Moyle.