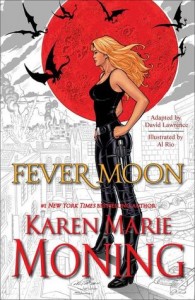 Fever Moon: The Fear Dorcha (Fever)
by Karen Marie Moning, Al Rio (Artist), David Lawrence (Scripter), Cliff Richards (Illustrations)
An all-new Mac & Barrons story by #1 "New York Times" bestselling author Karen Marie Moning, marvelously adapted into a full-color graphic novel by writer David Lawrence and illustrator Al Rio 
In "Fever Moon, " we meet the most ancient and deadly Unseelie ever created, the Fear Dorcha. For eons, he's traveled worlds with the Unseelie king, leaving behind him a path of mutilation and destruction. Now he's hunting Dublin, and no one Mac loves is safe.
Dublin is a war zone. The walls between humans and Fae are down. A third of the world's population is dead and chaos reigns. Imprisoned over half a million years ago, the Unseelie are free and each one Mac meets is worse than the last. Human weapons don't stand a chance against them.
With a blood moon hanging low over the city, something dark and sinister begins to hunt the streets of Temple Bar, choosing its victims by targeting those closest to Mac. Armed only with the Spear of Destiny and Jericho Barrons, she must face her most terrifying enemy yet.
Hardcover, 144 pages  Published July 10th 2012 by Del Rey  ISBN 0345525485 (ISBN13: 9780345525482)
This graphic novel had very detailed illustrations. The emotions and intensity of the story leapt off the pages. After what has happened to Mac in the past, she's out for revenge. She's pissed off and now that her friends and acquaintances are being attacked, it's personal. She doesn't run from anything, in fact she runs towards it.
It was entertaining to see how the artwork portrayed the villain with no face, and how each of the victims had parts of their face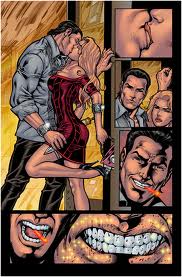 stolen. Mac's purpose is to discover 1) who is stealing face parts 2) how many faces are they going to take and 3) how much time does she have.
I was impressed by how much detail went into the artwork. The city is in the middle of a war and buildings are destroyed. Most of the story takes place at night and it's dark, dirty and falling apart. Each brick, facial and body expression, plus details in the crowded bars and streets were all very precise. The landscape is gloomy, the creatures are frightful and the men, well..they are sexy!
The majority of the story is told in dialogue and pictures, with some side details along the way. This has been my favorite form in graphic novels as it really helps to push along the plot at a faster pace, as well as getting to know the characters better at the same time.
There is a bonus feature in the back of the book where we not only get a detailed overview of the Fever series by the author herself but we also get a handful of pages where each of the characters are drawn and their involvement in the series are detailed. The fully colored pages add the extra visuals to the story that help us put a face to the name.