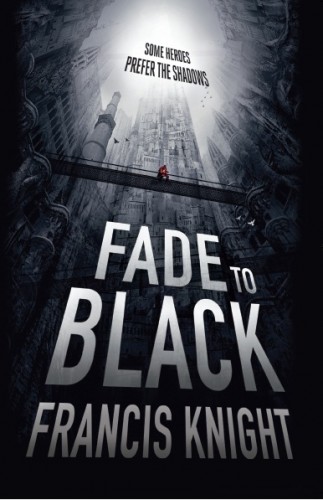 Fade to Black is everything you could want from a debut novel, and so much more. Raw and passionate, without the trappings of an author trying to squeeze out the next tale in a series, it grabs you by the scruff of the neck and refuses to let go.
That isn't to say that Francis Knight has written something that lacks style or flair; far from it. But in this case the fluid language, wonderfully depicted settings and deep characters are far more the tools used to convey the heavy plot than the tale itself.
Fade takes place in a film noir style metropolis of both magic and technology. The setting isn't any one thing and nor are the characters, everything takes on a double or triple meaning; from the sterile and strict Upside to the raucous heartbeat of Under. When Rojan Dizon, bounty hunter and mage in hiding, begins his search for his missing niece – taken by those who don't fit into his world – he sets off a chain reaction that leads him into a society that should never have existed.
The story sweeps across jagged turns, never quite staying on a single path for the reader to get comfortable, but making sure they stay on the ride until the end.
Characters are multifaceted, often having multiple agendas, and this includes Rojan himself. As the tale twists and turns through the three-hundred or so pages it becomes clear that as a narrator he is keeping something close to his chest. From a purely academic viewpoint these are some of the most realistic characters in fiction, as is evidenced not only by their hopes and fears but also by how they have been shaped by their surroundings.
Most of Fade to Black is dark and dirty, as is everything beneath the Heights. Emotion is the key to its success, as it is very easy to start empathising with every individual. Including the unpleasant ones. And while it is a very serious novel, with an underlying mystery that has a habit of scraping at your heart, it maintains a sense of humour that prevents the reader from dropping too far into the Black.
Once the mystery begins to unfold it is impossible to put it down. Fade to Black will leave you feeling raw and satisfied.
Expected publication: February 7th 2013 by Orbit