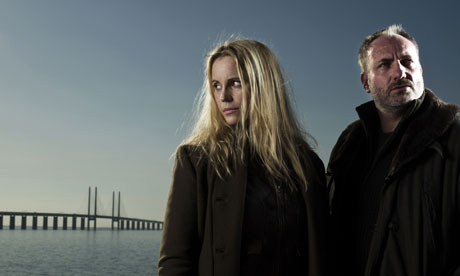 First thing I have to say is, that The Bridge has the most exceptional theme song.
Hollow Talk by The Choir of Young Believers is a moody, delicate, depressing song. Perfect for a series, which is all of the above.
The Bridge snuck up on me. I had it in the bookcase for a fair while, and for some reason, thought it was over ten years old. I realised, when I finally loaded it into my computer to watch, that in fact, it was only fairly new and being touted as the new The Killing.
Here's some of the wiki synopsis: What appears to be the body of a female Swedish politician is discovered in the middle of the Øresund Bridge, which connects Copenhagen in Denmark with Malmö in Sweden. The body, cut in half at the waist, has been placed precisely on the border between the countries, thus falling under the jurisdiction of both the Danish and Swedish police agencies. After further examination, it turns out that the body is that of two separate corpses, with one half belonging to a Danish prostitute. Saga Norén, from the Swedish side, and Martin Rohde, from the Danish, lead the investigation to catch the murderer … And so it goes.
Sonia Helin plays the socially awkward, dogged and forthright Swedish detective Saga Noren. Her counterpoint is Kim Bodnia as Martin Rodhe. Rodhe is a family man with an easy manner and a wandering eye. While on the case, the pair develop an uneasy friendship which develops into something deeper as the story takes a very personal turn.
The acting and the suspense are as good as any of the best Scandinavian television series. I found the mood to be even bleaker than The Killing, as the story is played out through the chill of a Swedish/Danish winter. I don't recall  seeing the sun shine once. Coupled with the outstanding theme music, The Bridge, had me hooked before a word is ever spoken.
Interestingly though, Saga is a little harder to connect with than our beloved Sarah Lund from The Killing. I felt sympathy for Saga, and admired her dedication and police instincts. She truly interested me, but I couldn't see myself in her shoes. This is an observation rather than a criticism. With Lund, I felt totally connected, with Saga, I was fascinated. The character of Martin Rodhe is portrayed as loving and charming on one hand, and selfish and vain, on the other. Having Saga playing against him, and seeing their fledgling friendship develop, is his saving grace. Otherwise, I might have been inclined to throw my remote control at him.
The Bridge creates a believable dynamic between its lead detectives, who are caught in a suspenseful and twisted tale of revenge. I can see why Clive James thought he might die from despair when series two finished! Hooray for Nordic Noir!