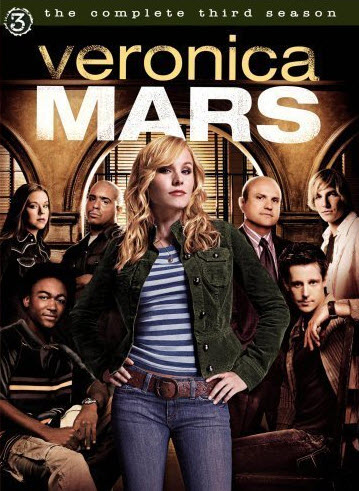 A long time ago, we used to be friends, but I haven't heard from you lately at all – come on now, sugah, bring it on, bring it on. Just remember me when … ~The Dandy Warhols
My friends have been raving about this series for years, and I finally paid attention to them. I won't give the whole story summary here; most of you who will read this, will already know what the series is about. Instead, I'll talk about why I fell so instantly in love. Girl detective–well that part is a no brainer! But, as well, Veronica is just so damn super smart. How wonderful to find a TV series celebrating that a young girl is the smartest person in the room! Veronica is everything I love in female hero.
Watching Veronica think her way through her problems is an immensely empowering experience, and not one that normally ever happens in TV fiction. Kristen Bell was absolutely born for the role of Veronica and she's been quoted as saying as much. Her supporting cast were perfect, none more so than Enrico Colantoni who plays her father, Keith Mars. (It's been almost impossible to watch him any role since.) Jason Dohring is equally perfect as the smouldering and dysfunctional Logan Echolls, who never fails to drag Veronica into his dramas. And then there're Weevil and Wallace and Mac–all wonderful characters who could've so easily been stereotypes, but weren't. (Cream on the cake was having Charisma Carpenter in the cast–one of my favourite Hollywood people.)
I wish I'd come to this series earlier so I could have contributed to the Kick-starter campaign that raised around 6 million dollars to produce a movie (sadly it looks like they've only made a percentage of that back). And what a great movie it was…a delightfully satisfying full circle for Veronica, who comes to terms with who she really is, and what that means. Also, I found that the discussion about addiction was a very powerful way to end the story.
Oh, and as theme music goes… this is my all time number 1! (Which makes me think of another topic for a blog post.)
The Dandy Warhols – We Used to be Friends
The Series
The Pilot for Series 4
The Movie