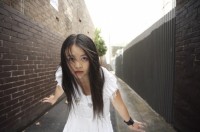 The day your book is released is always important but with the release of Burn Bright this week, it is the culmination of nearly a decade's work. Yes, I've been working on the manuscript, on and off, for about that long! You might be sick to death of hearing me talk about it at this stage, but when you've been with a story FOREVER, it feels like cause to really celebrate.
To add to that, it's my first creative collaboration with Yunyu. I loved working with her. She is something else: clever, funny and so so so talented. Plus she's given me an awesome idea for book 2, Angel Arias. This project has also given me opportunities to do some fun publicity, meet a whole lot of new readers, and strengthen my bonds with some people I love and respect like the CoolShite crew.
We've been doing giveaways on Facebook, and through the Burn Bright website, and will do the last ones during the CoolShite podcast on March 7th. Remember, to win those ones, you have to email your questions in ahead of time to feedback@coolshite.net.

The Courier Mail did a neat article on the collaboration today, and also listed my Brisbane Tour Dates:
Strathpine Library on March 29 (3480 6698)
Narangba Library (3385 5555)
Redcliffe Library on March 31 (3283 0311)
Victoria Point Library on March 31 (3884 4000)
Pulp Fiction, Brisbane City, on April 1 (3236 2750)
Brisbane Supanova Pop Culture Expo on April 1-3 (www.supanova. com.au)
And while we're talking about giveaways, Twelfth Planet Press are also giving away 2 copies of Glitter Rose on Goodreads. All you have to do to be in the draw is click a button (and be a member of GoodReads).