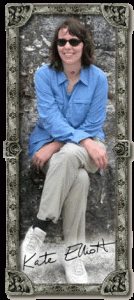 Maybe it is inevitable that I became a fantasy writer.
As the daughter of an adult immigrant (my mother) and the great-grandchild of immigrants on my fathers side, I grew up with an awareness of living between worlds.
While I very much lived within mainstream rural America (such as rural America is mainstream, but it was moreso then than now), at home we had special foods, a second language, ways of going about things and expectations of how one ought to act that were subtly or sometimes quite overtly different from the general culture around us.
Also, for the year I was five, my father was teaching on a Fulbright Teaching Fellowship in Denmark (my mothers birthplace and my fathers ancestral home), so I was additionally dislocated for a year at a young and formative age.  First I didnt want to speak Danish;  later, I didnt want to speak English.  (I was a stubborn and opinionated child.)
So even though I was entirely at home growing up in rural Oregon, playing outdoors, climbing trees, swimming in the river, and making up adventures, there was a part of me that always felt at one remove.  Like maybe I wasnt quite in the place I was supposed to be.  Like if I just found the hidden gate, I could step through into that other world.
Which world, precisely, was that other world?  My true home?  No, for I never felt that I was a changeling or a secret orphan.
Maybe by that other world I meant a place where I felt I fully belonged.  I cant be sure;  Im speculating;  Im certainly comfortable in this world, even if at times I feel a yearning in my heart for something I cant quite describe or put my finger on.  But from an early age I found myself drawing maps and writing snippets of scene and story about those other places.  These landscapes changed as I changed and grew, but the fundamental process of seeking did not change.
Eventually, of course, I wrote a couple of not very good novels, and with practice, I got better, and eventually began publishing what I sincerely hope are much better novels than those early attempts.  I am still writing novels set in other worlds.  If there is one constant in all those plots, it is one of characters who are seeking to find their place, maybe by crossing from one land into another or else by uncovering the hidden landscapes of the world they live in.
My latest novel, Cold Magic, fits seamlessly into this personal tradition, about a girl who, quite unexpectedly, is forced into a journey in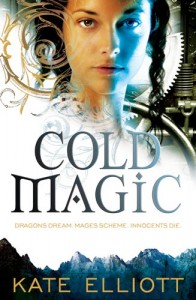 which she uncovers secrets about her own past and about the world she lives in.  The character of Cat Barahal is not based on me, nor is she meant to be in any way a secret second persona for myself.  But her story is definitely the kind of story I have been exploring for a long time, and one that I really truly love to write.
Bio:
"Kate Elliott" published her first novel with DAW Books in 1992.
She is currently working on the Crossroads series (Spirit Gate and Shadow Gate, with Traitors' Gate ), published by Tor Books (USA) and Orbit Books (UK). It's an "HBO-style" fantasy with a focus on character and landscape, and an epic plot.
Earlier, she wrote the seven volume epic fantasy series, Crown of Stars, set in an alternate European landscape where magic has been (literally) woven through the land. The first volume,King's Dragon, was a Nebula Award finalist in 1998.  Crown of Stars is published by DAW Books (USA) and Orbit Books (UK) and has been translated into German, Russian, Polish, and Spanish.
Her Novels of the Jaran, set in a speculative future, follow the nomadic people known as the jaran after their first contact with the technologically more advanced society of Earth. The author has described Jaran, the first in the series, as "Jane Austen meets Genghis Khan" in a science fiction setting.  The series is published by DAW Books.
With Melanie Rawn and Jennifer Roberson, she co-wrote the bestselling fantasy novel The Golden Key, a 1997 World Fantasy Award finalist (published by DAW Books in the USA and Pan Books in the UK).
She has also published short fiction in various anthologies.
In a previous literary life, she published four novels under her real name, Alis A. Rasmussen.