Book launches fit into the category of *celebrations*, along with weddings, engagements and 21st's. I've been to a lot, and had the good fortune of launching one or two. I've had my own, and been terrified and emotional the entire way through them.
In August this year, I get the privilege of launching a book written by one of my BFF's, a writer I also greatly admire.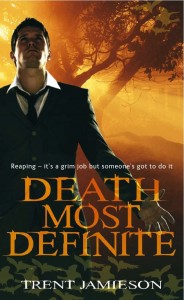 Trent Jamieson's first novel, Death Most Definite, is soon to be released, and I get to tell a bunch of people, how lucky they are to get to read his work, and how he's about to ascend the urban fantasy Kings' dais to sit alongside Jim Butcher.
I wonder what they'll call the TV series … The Stephen de Selby saga … Stephen de Selby scrolls, Stephen de Selby stories …