by Bill Willingham, Lan Medina (Illustrator), Steve Leialoha (Illustrator), Craig Hamilton (Illustrator)
When a savage creature known only as the Adversary conquered the fabled lands of legends and fairy tales, all of the infamous inhabitants of folklore were forced into exile. Disguised among the normal citizens of modern-day New York, these magical characters have created their own peaceful and secret society within an exclusive luxury apartment building called Fabletown.
But when Snow White's party-girl sister, Rose Red, is apparently murdered, it is up to Fabletown's sheriff, a reformed and pardoned Big Bad Wolf (Bigby Wolf), to determine if the killer is Bluebeard, Rose's ex-lover and notorious wife killer, or Jack, her current live-in boyfriend and former beanstalk-climber.
Trade Paperback, 128 pages
Published January 1st 2010 by Vertigo
ISBN  1563899426 (ISBN13: 9781563899423)
Now this was a fantastic read. Fables opens up a world of all and any known beings in any fable, nursery rhyme, fairtyale – you name it. The ensemble of potential characters that this series can contain is endless. In Volume One: Legends in Exile: it's a who-dunnit mystery. The sister of Snow White, Rose Red, has gone missing. There is too much blood in her apartment to make it possible that she survived, but where's the body? Mr Wolf and Snow White take on the case together and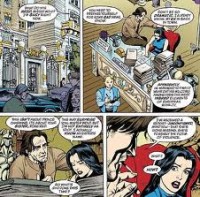 start interrogating all the people Rose Red has been known to consort with.
Volume One contains the first 5 issues of Fables, and the whole complete story of Rose Red's disappearance, ending perfectly. The combination of dialogue vs illustrations was balanced and the introductions to several other characters not overwhelming, leaving an opening for several more story lines to branch off.
Along with the mystery we get an introduction into the world, how the Fables came to be living among the Mundanes in our world and the desire to want to be able to go back to their homelands one day.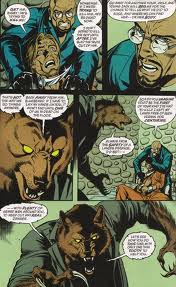 Interesting side characters that are introduced are Beauty and the Beast, Cinderella and Prince Charming, although we only get a peek into their lives – but the girls take on major kick ass roles. They play an equal role against the guys in this story and I loved finding a new and intriguing way to view Snow White and Cinderella.
My favorite character was Snow White, she has a powerful job working for the government, better off divorced and stronger for it, great apartment and can stand up to the more animal side of the guys. By far my least favorite character is her ex husband Prince Charming. He's a cocky, selfish ass.
This is by far one of my favorites, I do not know what took me so long to look into this serialized story, no wonder it won an Eisner Award in 2003. I highly recommend it.