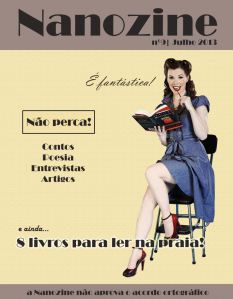 Thought is was time for a few upcomings and incomings. Hope to catch you around the traps at some of the following!
Indooroopilly Library Tuesday 13th August | 6:30 – 7:30pm
Meet Marianne Delacourt: Crime fiction in the Sunshine state. Join local author Marianne de Pierres as she discusses the supernatural crime fiction she writes under the pseudonym Marianne Delacourt. Marianne will delve into the pros and cons of setting a supernatural crime fiction novel in the Sunshine state. Bookings essential.
Brisbane Writer's Festival – I'll be moderating a panel discussion between Scott Westerfeld and Max Barry on the Saturday of the festival at 11.30 am.
CrimesceneWA – crime convention in Perth on the 12-13 October. You can read the full (awesome) guest list over at their website.
Australian Webstream Awards – inaugural awards ceremony where I'm presenting Best Writing Award.
And some webby love:
An interview with Portuguese mag Nanozine 9. Slide on through to page 18 and hit Google translate!