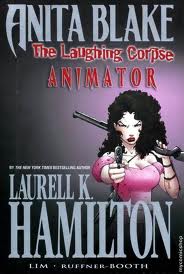 Anita Blake, Vampire Hunter: The Laughing Corpse, Volume 1: Animator (Anita Blake, Vampire Hunter: The Laughing Corpse #1) by Laurell K. Hamilton, Ron Lim (Illustrator)
Anita Blake is back in the second volume of Marvel's comic adaptation of Laurell K. Hamilton's bestselling series of novels. What would you do for a million dollars? Would you resurrect a two-and-one-half-century old corpse? Harold Gaynor poses just that question to Animator and part-time vampire hunter, Anita Blake… Plus, some crime scenes are even too horrible for a vampire slayer, and the worse they are, the more questions they raise.
Anita Blake: The Laughing Corpse – Book One #1-5  Hardcover, Graphic Novel, 120 pages Published May 13th 2009 by Marvel Comics (first published January 1st 2008)
ISBN  0785136320 (ISBN13: 9780785136323)
In one of her more intense and gory stories, The Laughing Corpse, Anita Blake is offered millions of dollars to raise a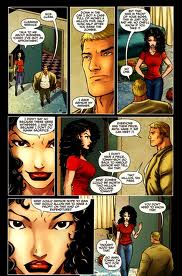 very old zombie from the dead. She (being her stubborn self) turns down the job. By in doing so, she puts into motion several different events that eventually lead to a tough choice; give in and accept the job, or lose her life. The longer the person is dead, the more blood it takes to awaken them. As the person in question here is 283 years dead, she must sacrifice a human to be able to raise the zombie. This she refuses to do. Although she has killed humans before, it has always been in self defense. She sticks to her decision and is rather adamant and threatening when pushed.
After refusing the job, she begins to have unwelcome visitors at her house. Not only that, but as she is on retainer with the local police department, she's pulled into an unusual murder that has taken place not far from town. There is a creature killing innocent people and a 3 year old has gone missing.
This series of books (The Laughing Corpse, Animator, Executioner, Necromancer) is more gory and intense than others in the series. Anita is pushed to her limits with no sign of a vacation in sight. With a full time job raising zombies for clients through Animator's Inc, and her investigative work finding the creatures killing innocent people for the police, she rarely sleeps or eats. We don't seen her in any type of type of normal relationship. It's all business with her.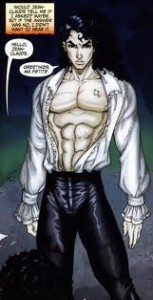 After turning down another offer from the Vodun priestess, Anita gets in deeper than ever and she starts sleeping with a gun by her side. Anita seems to have so much on her plate already, then the new master of the city (Vampire master, that is!) Jean-Claude, enters. Anita and Jean-Claude have a history together. He has marked her twice already and is planning on making her his human slave. They have a deep connection from the previous bites and Anita is bitter and incredibly anxious to disconnect their newly made mind bond. She tries to escape him and his games but no matter how hard she tries, he will not let her.
The graphic novels maintain a good balance between dialogue and illustrations and the story keeps up an intense pace.