Anita Blake Vampire Hunter: Circus of the Damned – Book One: The Charmer (Anita Blake, Vampire Hunter: Circus of the Damned #1) by Laurell K. Hamilton, Jessica Ruffner, Ron Lim (Illustrator)
BEST-SELLING AUTHOR LAURELL K. HAMILTON'S FAN-FAVORITE VAMPIRE HUNTER RETURNS! Anita Blake walked away from her last case with more than a few bruises–but those wounds are nothing compared to the scrapes that lie ahead in this blood-soaked adaptation of Hamilton's third erotic thriller. To find a killer targeting the undead, Anita must descend into the dangerous, supernatural demimonde operated by the master vampire Jean-Claude. It will take all of Anita's wits to survive
Hardcover, Graphic Novel, 120 pages Published February 9th 2011 by Marvel (first published January 19th 2011) ISBN 0785146881 (ISBN13: 9780785146889)
A new body is found that has several bites from different vampires. This leads Anita to believe there is a new group of vampires in town. She feels no choice but to turn to Jean-Claude, master vampire, to see if he knows who could be killing the victims.
Jean Claude thinks it's time to have a little fun and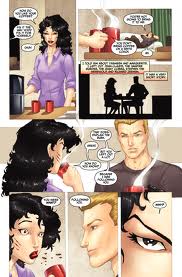 games before helping her. While on a visit to his new club, The Circus of the Damned, Anita is put in the  middle of a little game of jealousy between the vampire Yasmeen and her human slave. It seems that Yasmeen likes watching the human slaves fight each other, of course Anita has the upper hand, but when a shifter joins in the fun, someone is bound to get hurt. Luckily, a mutated giant snake has started attacking people. The group decides to end their games and work together to kill the snake.
Anita makes a new enemy of the Humans First group who're out to kill the master vampire – the
same master vampire that Anita currently has ties to. and those ties that are getting more intense by the day. Anita shows the same stubborn ability to piss off a new group of people, and protect those she believes have not done anything wrong.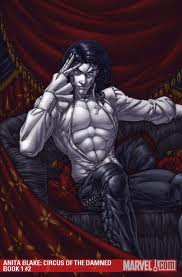 We finally get a hint at a romance in this one. But how is Anita going to be able to fit a romance into her already hectic lifestyle? I'm pleased to say that Anita stays true to form; a lot of bad assery and very little complaining.
Great visuals along with equal amounts of dialogue; full colored glossy pages, gore, and some language and nudity.