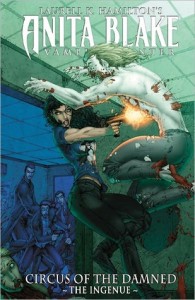 Anita Blake: Circus of the Damned Book 2: The Ingenue (Anita Blake, Vampire Hunter: Circus of the Damned #2)  by Laurell K. Hamilton
BEST-SELLING AUTHOR LAURELL K. HAMILTON'S HEROINE IS BACK. Morgues, as a rule, are pretty quiet places. But in a world of vamps and the rising dead, they can be positively hopping. Join animator Anita Blake as her search for a serial killer takes her to the most dangerous after-hours joint in St. Louis.
Collecting ANITA BLAKE: CIRCUS OF THE DAMNED – THE INGENUE #1-5. Hardcover, 120 pages  Published September 21st 2011 by Marvel (first published 2011)  ISBN  0785146903 (ISBN13: 9780785146902)
At 24 years old Anita Blake is no stranger to danger. She is a kick ass animator who shoots first and asks questions later. Something has gone awfully wrong in an investigation. Anita did not put the pieces together fast enough and now there is another newborn vampire on the loose. She feels responsible and her and the police team she works with often take off to the morgue to make sure the vampire does the least amount of damage to the unsuspecting bystanders.
From one fight to another, Anita barely makes it back in time to help train the new animator that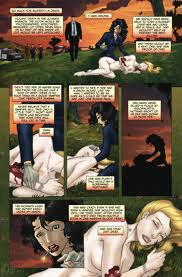 Animator's Inc has hired to help with all the incoming work.( Anita has finally stood up to her boss, telling him that she was too overworked with jobs coming from both the Animator's Inc and her retainer work for the police supernatural force.)
Her new trainee is just out of school. He's decided to take on his third animation for the night when Anita shows up just in time to help and explain everything that could have gone wrong. He was trying to do too many animations in a row, which drains an animators power and can cause the zombies to rampage if not controlled.
As if Anita does not have enough on her hands already, the new vampire group in town has finally caught up with her and she barely gets away from their attack with her life.
Even though her new partner has only seen the beginning of what the job may entail, he doesn't change his mind. Anita thinks he's just too young, but he's not giving up after just one bad night. He gains her respect and she thinks that they just may be able to work together after all.
Anita keeps getting pulled deeper into vampire politics. Some are fighting for more rights, and others for less. This drives her into the arms of Jean Claude, the master of the city, yet again. Jean Claude is set on making Anita his human slave. Although Anita does have a growing attraction to Jean, she is unsure if it is because of his powers or not. Plus the fact that she absolutely despises the thought of a vampire believing he owns her. She is a very independent and stubborn woman.
Full colored glossy pages and equal amounts of dialogue and visuals, these graphic novels are intense and fun. Lots of action, blood, supernatural creatures, and a main heroine that has a shoot first ask questions later attitude that will get you addicted fast.