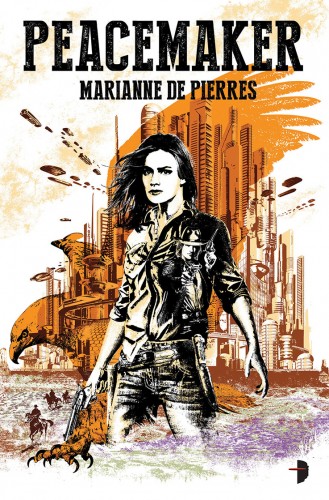 ~Mythago Wood
 meets a dime Western with an Australian accent ~
What can I say but *love*!
I've been blessed to have some wonderful book covers in my career and this one by Joey Hi Fi, commissioned by Angry Robot (and partially inspired by Brigitte Sutherland's graphic novel illustrations) is right up at the top!
PEACEMAKER is due for release May 1st 2014 in UK and US, and as soon as it ships in Australia.
What do you think?
The eagle's shadow behind Virgin has great significance in the story and you can see Nate Sixkiller on Virgin's shirt. The background is the city and the foreground is the Birrimun Park. The park has hints of purple mulla mulla on it.
Perfect!
For those who are wondering what the heck it's about, the story is a blend of SF, Western, paranormal Australiana. US Marshall Nate Sixkiller, and Park Ranger, Virgin Jackson, have to work together to solve a murder in Birrimun Park. Turns out that co-operation is not a strong suit for either of them. But in this case there is really no option.
I would describe it as Mythago Wood meets penny Western with an Australian accent.