Grimm Fairy Tales Presents Alice in Wonderland #1 Released January 25th Artwork by Artgerm, Eric Basaldua and Nei Ruffino.  32 pages
Paperback: 168 pages
Publisher: Zenescope (January 22, 2013)
Language: English
ISBN-10: 1937068668
Decades ago, a girl named Alice was sacrificed into the horror-filled realm of Wonderland but her terrifying and awe-inspiring experiences there have been shrouded in mystery. The one thing known is that her time spent in a world full of insanity left her a broken adult. However, her courageous will to survive is what ultimately saved humanity. Now the story of Alice's visit into Wonderland is fully revealed and the truth of the terror will be told in full! From Raven Gregory, Ralph Tedesco and Joe Brusha, the same minds behind Grimm Fairy Tales and Return To Wonderland comes the newest series that Zenescope fans have been waiting for. What every Zenescope fan has been waiting for is finally here! Follow Zenescope back down the rabbit hole and find a world of madness like you have never seen before!

In a dark twist to an already unusual story, this graphic novel tells a story of a young  Alice who is coaxed into the Real of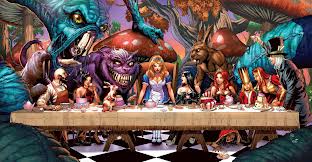 Dreams by her grandparents. Alice has become a slave to the evil and grotesque Jabberwocky. In Vol 1 we see Alice as a young woman who with some help, escapes the Jabberwocky and has several encounters with the people/creatures of Wonderland. The Chesire Cat is chasing after her to return her to her master and Alice is stuck in a land of terror.
Throughout the story we get flashbacks of how Alice came to be in Wonderland and what is happening in the real world. As she travels through Wonderland, and encounters different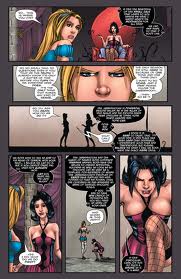 people, she soon comes to realise that she has to conquer the Jabberwocky to ever really be free of him.
As with all comics, this one was a very fast paced adventure, introduced to us with a Grimm twist. There is no down-time as Alice is in a race for her life.
With full colored  pages, a more risque, adult version of Alice and horrific landscape, this comic is a view into a twisted and terrifying side of Wonderland. Most of the storytelling is done through the art work and visuals to accentuate the creep-factor of the characters and lands she travels through. (There are no fluffy white bunnies or flowers in this version!) It has a good balance between dialogue/story telling and really focuses on the artwork to reveal the  majority of the story.