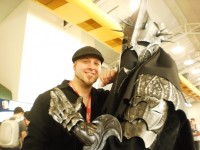 Tom Taylor has written plays that have been produced across four continents, from the Sydney Opera House to the Edinburgh Festival.  He has killed characters for DC Comics and created characters for Lucasfilm. He has written comics which have been reprinted in French, German and Spanish but he can't read any of them. He has sung for thousands in concert halls and acted to tens in the smallest of black-box theatres. He has sent Luke Skywalker on a quest and taught Darth Vader a lesson. He has directed casts of hundreds in full-stage musicals and composed songs heard across the world. He has juggled knives for billionaires and eaten fire for passers-by on the street. He has written for film screened in California and radio aired in Melbourne. He has won many awards for his writing and lost many of his indoor soccer finals. He is the father of two and the husband of one.
1.  You've written screenplays, award winning stage plays and comics and graphic novels. What is you favourite medium? Where does you heart lie?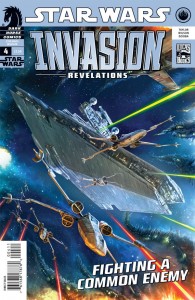 Although I enjoy writing theatre, musicals and film, and I've been involved in theatre since I was about 12, I truly believe that comics are the single greatest storytelling medium in the world. From the intimate to the infinite, comics are capable of anything. No other writing is as freeing as comics. Unlike film, there are no budgetary restraints.  In comics, it costs the same amount to blow up a planet on a page as it does to have two people talking over coffee. Likewise, a ship the size of a city, being attacked by a sentient squid creature, itself made up of a million dead spaceships, is a hard thing to convey on a small wooden stage.
A good artist can make that comics canvas stretch forever. I also love the pace of comics. Unlike prose, there's no need to stop and describe something or someone on the page, because the reader can see the people and places at the same time as they're reading.  This means moments can flow without pausing for explanation. I've loved comics since I was a child and I always promised myself back then that I would buy comics for us (me and young me) when I was an adult.  Although I wouldn't consider myself an adult yet, I'm still buying comics for young me.  Luckily, older me likes them too.  Plus, I'm writing them.
2.  Who do you enjoy writing more; the superhero or the antihero?
I'm not really sure. Unlike most, I'm a Superman guy, not a Batman guy. I much prefer earnest to angst. However, that said, I like writing characters who can speak plainly and cuttingly to authority. I like a smart ass. Basically, I like a jester. Creating a character who isn't afraid to say what he thinks and putting him in the same book as Darth Vader made for a much better book in Will of Darth Vader. Similarly, my favourite moments from my recent stint on DCUO Legends, writing Green Lantern, definitely involved Guy Gardner, a notable pest in the DC universe.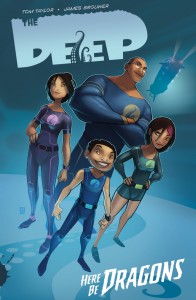 3. Can you tell us about some of your upcoming projects?
Sure.  My work on the 'The Deep' is continuing with volume II, The Deep: The Vanishing Island, well under way and I'm absolutely loving every moment of it.  It may be because they belong to me, not George Lucas or Warner Brothers, but the Nekton family are the first characters I've created who I've truly fallen in love with.  I want to write them all the time. I want to see them interact. I want to see them triumph and explore. I'm feeling very lucky that Gestalt Publishing have shown such faith in this book, and it's looking more and more likely that we will see the all-ages adventures of this multiethnic family of underwater explorers take off in another medium. If you're interested in picking up The Deep: Here Be Dragons, it's easily available right here http://www.exploringthedeep.com/shop/the-deep-here-be-dragons/
I have three more unannounced creator-owned books coming from Gestalt as well. Also, Believe, a one-shot adapted from my play of the same name, will be coming soon, with art by Emily Smith.
In the states, I have another little DC Comics thing on the way, I've written something else for another publisher, which is still a secret, and I'm in talks with yet another big publisher to do something with a good friend, which is also still a secret… even to me.
My new Star Wars project, Star Wars: Blood Ties – Boba Fett is Dead, was recently announced in New York and it should be hitting shelves around April next year. And Star Wars: Invasion is still rolling along very well. And finally, I've just finished writing a little something for British comics giant, 2000 AD.
Lastly, another short film of mine should be appearing soon with The Example having recently been filmed in Sydney, starring John Batchelor (Red Dog, Underbelly: Razor, Sea Patrol) and Kelly Paterniti (Griff The Invisible, Cops L.A.C.). Why have one project on the go when you can have fifteen? Who needs sleep… or time to put on pants.
4. Do you enjoy collaborating, or do you prefer to work alone?
I can't stand collaborating at the writing stage any more. I did it for many years in theatre and comedy, and they were very good years, but I think I'm too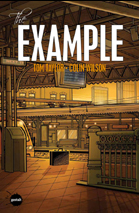 closed off and set in my ways to do that any more. However, comics are all about collaboration. I do value the input and suggestions of my editors (so long as they don't try to change my dialogue) and I work very closely with a lot of artists.  I also have a good friend who reads all of my work before anyone else sees it.  She's certainly a collaborator, even if she doesn't get enough credit (hi Kym!).
5.  What would you like Tom Taylor to be doing in ten years?
I'd like future Tom to be buying comics for present Tom and child Tom. I'd also like future Tom to be surrounded by merchandise for The Deep, having successfully headed up the animated series for a number of years. However, his own successful series won't stop future Tom from continuing to write Star Wars on top of a fantastic run on Superman. Also, hopefully future Tom will be relaxing with his family, playing soccer on the beach with his boys, while stopping occasionally to sip at an unashamedly girly drink with a plastic monkey hanging off the straw and… no!  I can't keep up this ruse any longer! This isn't a guess. Future Tom buys a time machine in ten years! I know. He came back and told me.  The drink is pink and lime green and tastes like coconut and mango, he gave me a sip. He also bought me a copy of his first Superman issue… it was okay without being ground breaking.  I told him so.  He glared at me with his one cybernetic eye and told me to look out for coat hangers.