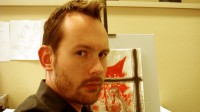 Ben Templesmith is a New York Times best selling artist and writer most widely known for his work in the comic book industry where he has received multiple nominations for the International Horror Guild Awards as well as the industry's top prize, the Eisner Award. He also won a Spike TV Scream Award.
As a creator, his most notable works have been 30 Days of Night (which spawned a major motion picture) and Fell. His other projects include the critically acclaimed serial Wormwood: Gentleman Corpse, as well as Welcome to Hoxford, and Singularity 7, all of which he also wrote.
He has also worked on the Star Wars, Doctor Who, GI Joe, Army of Darkness, Silent Hill and Buffy: The Vampire Slayer properties and produces art and design for music bands, dvds, toys, and film concept work.
1. For people who might be unfamiliar with your work, tell us about your current projects.
I'm some lucky Australian bastard who broke into the comic book industry and was lucky enough to get a movie deal for his basically first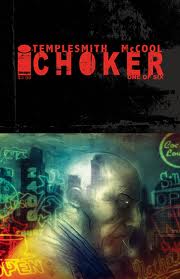 proper creator owned comic. By creator owned, I mean I owned a percentage. Not Batman or Superman etc which the creators are either dead or have their creations owned by corporations. So the news of that film option gave me a profile overnight so I continue to have a career thanks to all that extra stuff. Now I bide my time doing yet more comics, including FELL, WORMWOOD, CHOKER and a whole bunch of stuff I can't really talk about yet but let's just say everyone has heard of the thing I'm working on next tooooo…
2. You career shows a blend of collaboration and working on your own creative properties. What is your ideal mix and why?
My own properties are my love. Who wouldn't want to create their own worlds and intellectual property? Some work with others and on corporate/well known licenses can be a lot of fun though and also helps pay the bills! A bit of both helps the sanity and keeps you current.
3. Who would you love to work with and on what property?
I'd love to do Batman someday, and Wolverine, or Punisher, Ghost Rider… Dune would be amazing, same with Aliens… but really, there's no *people* i have ambition to work with anymore, I take it as it comes. Working with Warren Ellis was my one amazing fortune… after that, I'm easy.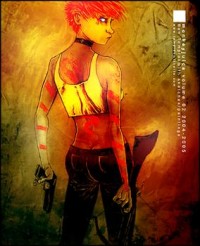 3. Your art has a very distinctive style, in the way that great guitarists have their own sound. Which artists (living or not) do you admire?
Thanks! I really don't know what people see in my work half the time, but it is a little distinctive, so at least they know it's me. Which helps. I admire people like Ashley Wood, Dave McKean, Victor Ambrus, Ralph Steadman… Mignola, Paul Pope, Kent Williams… far too many to mention that I draw from.
4. As a Western Australian working in the comic industry, how hard has it been to connect with the international scene.
I broke into my career from Perth, through the wonders of the internet. You can do it from anywhere so long as you have an internet connection now and work that impresses enough… though I am now a bit of a vagrant around the US until I hopefully settle in NYC next month. I've lived in the USA for several years, partly because the industry is just *real* there… it's the heart of it, and also the fans and amazing people. Americans area truly friendly bunch of great people.
5. What would you like Templesmith to be doing in ten years time?
Working with my own company in some fashion, giving a leg up to amazing new talent and crafting comics the way I want them to be done ( ie, to the creators wishes completely ) and really trying to popularise them and making them marketable and "cool" legitimately. Comics is still such a small industry… yes, we're books, but more and more online… but as a medium we have so much potential that's yet to be harnessed I think. So I'd love to be involved. And of course, create. A house in a small English village looking out at the sea would be my home base perhaps.