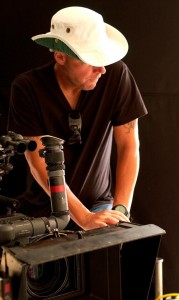 Thanks to October Coast, we had the chance to interview american filmmaker and writer David Mickey Evans, best known as the director of the iconic "The Sandlot" movies, as part of the celebration of the first film's 20th Anniversary.
In addition, Mr Evans is also promoting his book "The King of Pacoima", which is the full, unedited story (his story) told in the film Radio Flyer, which he also wrote.
David's other credits include The Sandlot 2, The First Season with actor Sean Astin, Ace Ventura Jr and Barely Legal.
1. David, how did you originally get involved in children's film and what are your favourite aspects of working for that demographic?
I have very strong memories of my childhood and so I suppose that makes childhood and adolescence fertile creative ground for me.  Having said that it is not the only thing that interests me.  I write stories that interest me, I have scripts that range from a true story epic western, to a drama about a reclusive writer.  I get associated with family and kids movies because ever since I sold RADIO FLYER, every family-oriented or kid-oriented script that gets written by anyone, comes across my desk.  I love working with kid actors because I'm still 12 years-old on the inside.
2. Could you tell us about your latest book, The King of Pacoima and your experience writing it?
The King of Pacoima is actually the novel I wrote, upon which I based the script for Radio Flyer.  After the film was released, I put the manuscript away promising myself someday that I would return to it and get it published.  I think it needed to age or season or something, like a good whiskey.  When the e-book thing started to happen it seemed like a good time to publish it.  So I edited it somewhat and included photos, storyboards, old kodachrome slides and paintings I had commissioned to illustrate the book, and hopefully add a depth of authenticity to it for the reader (it's autobiographical to a large extent).  Legacy Publishing is dying, and since the reach of publishing in the e-book formats is worldwide, you're only limited by how either good or bad the book is, I think.  And I think the book is good.
3. You're currently undertaking the 20th Anniversary Sandlot tour. Can you tell us how it's going? What's the energy been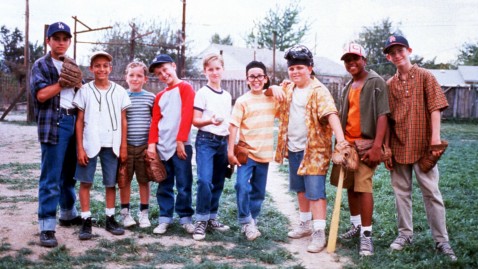 like at screenings and how has it felt to revisit that time of your life?
We had the first screening of the tour last night at Arm and Hammer Park in Trenton, New Jersey, home of the Trenton Thunder and the staff there told me they had never seen anything like the response to the screening.  It was a double header – game first, then screen The Sandlot.  Attendance was about 5,500.  And no one left after the game, so clearly they all came to see the movie.  The line for SANDLOT posters and t-shirts started out about 400 people long and never got any shorter.  I signed probably 2,000 autographs.  I didn't get out of there until about 11:30 PM.  So I'd say it was off the charts.  And honestly, it didn't feel like revisiting anything in my life – because The Sandlot is ever present, it's always with me, it never went away into the past and it never gets old.  There's hasn't been a single day in twenty years in which I have not received a note, a thank or 100 emails thanking me for the film.
4. You collaborate on a number of writing projects with your colleague, Paul Jaconi-Biery. What most appeals to you about co-authorship, and what's your collaborative process like?
Paul and I have a writing partnership that most writers would probably kill for.  There isn't a solitary molecule of ego anywhere in the room when we write together. The only thing that matters is the story and the question, "can we do better?"  In a practical sense, having a writing partner forces you past any proclivity toward writing-death, which of course is procrastination (you can't get the work done unless you get the work done).  Creatively, having another brain that is symbiosis with yours, making for a single voice on the page, allows us to throw ideas, dialogue, jokes, anything back and forth, always trying to find the exact best way to go structurally or emotionally or dialogically.  Can either of us do it alone?  Yes.  You can't collaborate with another writer unless you've got the chops to being with.  And listen, writing is fucking scary.  It's essentially playing God.  And I'm pretty sure he gets annoyed if you're taking credit for stuff you shouldn't be taking credit for.  Having a partner keeps the terror quotient down to tolerable levels.
5. Fans know that you're an avid baseball fan. What do you love about the sport, which is your favourite team, and what are some of your favourite sporting films, baseball-related or otherwise?
I bleed Dodger Blue.  Clemente is my all time baseball ball hero. I love baseball because it's a meritocracy, like life, that can be summed up in one word, "Hope."  I'm not a fan of sports movies in general, although Raging Bull, Rocky and Cinderella Man were beautiful pieces of work.
6. Speaking about 'The Sandlot Kids', can you share with us something about the process while filming that iconic film and also maybe some funny stories behind the scenes?
The whole production was like one big summer camp for the kids.  They gelled really fast as friends on and off screen.  That made the "Herding Squirrels" thing much easier.  Working with them wasn't so much "working" or directing as it was guiding them like a big brother or a camp counselor.  They were all great mimics too, so when we would get stuck (which wasn't very often) I could say "Try it like this…" and then line-read them and they would mirror me and we'd get it done.  The scene that probably took the longest to shoot was the "S'mores scene," in which Ham instructs Smalls in the fine art of making a S'More.  Pat Renna was so damn funny saying "You're killin' me Smalls!"  That all the other guys busted up laughing every time he said it, and essentially rendered the take unusable because they were in the background.  And when kid actors get the giggles, forget it, day over.  They simply cannot stop laughing.  Eventually (after hours and hours) I had to use a take in which I told the guys "look if you can't stop laughing, just laugh with you r mouth closed!"  The take used in the movie, if you look at Benny in the background, poor Mike Vitar is actually biting his lip to keep from ruining the take.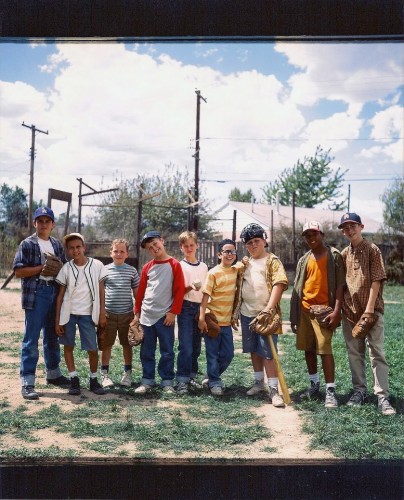 7. You graduated from Loyola Marymount University with degrees in film and screenwriting. How significantly did your studies affect your career and would you recommend formal study to other creative artists?
College gave me the opportunity to study lots of different things.  Sort of soak up a bunch of information I might not otherwise have been exposed to.  So for that, yeah, it's good.  But college didn't teach me to write, no one can teach anyone to write.  But if you want to write, you have to live a life, in other words you have to experience things, and learn things.  What you do with that stuff creatively is what makes you a writer, so tangentially yeah, it was valuable to my becoming a writer.  But it did not teach me to write.  Film production wise if I had to do it over again, I'd bypass the college thing altogether and work on as many film productions as I could and learn it all on the ground.
8. How important are blogging and social media to your career and how much interaction do you have with your fans?
Hugely important.  In the movie business everything is people.  Social media is people.  The two are now, I think, inextricably connected forever.  If you're a writer or a director and you don't have a FB page you're an idiot.  I have direct contact with my fans through a public FB fan page and my Blog.  It is the doorway through which anyone, fan or producer, can contact me.
9. What's next on your creative agenda?
A Christmas movie called MIRACLE AT PALMER HOME, in Memphis, TN this fall.  A film I wrote that takes place in Hawaii called THE HAOLE SUBSTITUE, another script Paul Jaconi-Biery and I wrote (for Peter Fonda) called HEMINGWAY'S HERO,  And the initial few movies adapted from the great Matt Christopher Sports Books for kids.
Thanks a lot for your time.
My pleasure!
Interview courtesy of our creative content partner Jorge Duran and The Spotlight Report