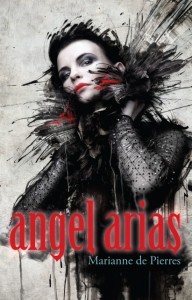 Hi Guys! Am in the middle of the Brisbane Writers Festival which has been good fun, especially because I've had a chance to have a good chinwag with Margo Lanagan. The panels for the children's programme have been excellent and all the kids  have been incredibly polite and excited to be at the festival. I've signed many, many exercise books and pieces of paper! I have one more event to go, which is a panel with Trent Jamieson on Saturday on SF writing.
Then it's the downhill run on my Tara Sharp novel and finishing off the year's events with SheKilda and Supanova.
Angel Arias is due out in the next three weeks and some reviews have started seep through. You can read some of the MDPWeb staff reviews here and here.
I've been so busy that I haven't had a chance to send Brigitte issue 2 of Peacemaker. It's so close to being finished but just needs another day's work. If only I could find a day spare! Grrr! SOON! WILL DO, Bridge! Promise!