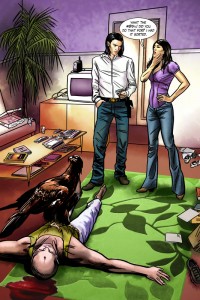 We've sat on this for a long while deciding what to do and are now opening up to submissions for a replacement artist on the PEACEMAKER comic (Brigitte done got a full time job!). If you think that might be you, please email Marianne though the contact page.
Once she has replied, you can sub a sample of your work. Ideally it would be a sketch of the character Virgin Jackson but we'd love to look at your general portfolio as well. This is a paid contract but the fee needs to be negotiable. You will be required to INK and COLOUR as well.
Look forward to hearing from you!