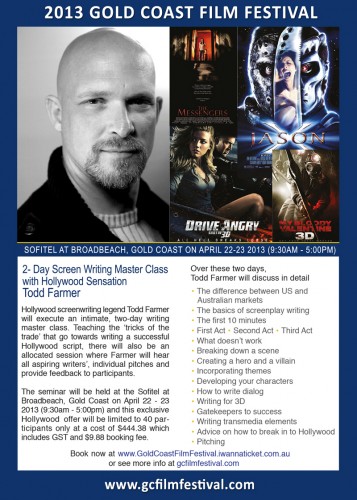 The Gold Coast Film Festival is excited to announce the return of Hollywood screenwriting legend Todd Farmer, who will execute an intimate two-day writing master class.
Todd's first script, Jason X, was the tenth instalment in the Friday the 13th series, and was followed by a film based on one of his stories,  The Messengers starring  Twilight's Kristen Stewart,  directed by the Pang brothers and produced by Sam Raimi's Ghost House Pictures.  His most famous script came to life in 2009 with the reboot of a Canadian horror classic,  My Bloody Valentine 3D – one of the few films of the decade released in 3-D before Avatar. It was a major success, grossing over 100 million dollars worldwide.  Most recently, Farmer has made the supernatural revenge thriller Drive Angry starring Nicolas Cage, Amber Heard and William Fichtner.
Farmer  has  further  penned the screenplays  for  Halloween 3D and Weinstein's  Hellraiser and is currently working on a one-hour dramatic TV series with producer Mike De Luca (The Social Network) and a slate of films to be shot in Australia. 
The master class will be held at the Sofitel at Broadbeach, Gold Coast on Monday April 22 and Tuesday 23 2013 and is limited to 40 participants only.  During the two day session, there will be an allocated period where Farmer will hear all aspiring writers' individual pitches and provide feedback to participants, which is invaluable to both aspiring and current writing practitioners.   
The master class fee is $444.38 (which includes GST and a $9.88 booking fee) guaranteeing that those people attending will be serious about learning the craft.
For more information please visit the festival website – 
http://www.gcfilmfestival.com/page/90/Screenwriting_Master_Class