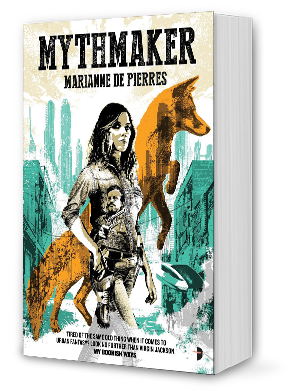 Book 2: Peacemaker Series
Virgin's in a tight spot. A murder rap hangs over her head and isn't likely to go away unless she agrees to work for an organisation called GJIC with Nate Sixkiller as her immediate boss. Being blackmailed is one thing, discovering that her mother is both alive and the President of GJIC is quite another. Then there's the escalation of Mythos sightings, and the bounty on her head. Oddly, the strange and dangerous Hamish Burns is the only one she can rely on. Virgin's life gets… untidy.
The cover:
Joey HiFi has captured the essence of the MYTHMAKER story in his cover. The fox is a surprise spiritual guide to one of the characters, the urban background foreshadows trouble in Mystere, and the man on Virgin's shirt is Papa Brise. It's a brilliant interpretation of events. I think I like it even more that the PEACEMAKER cover.