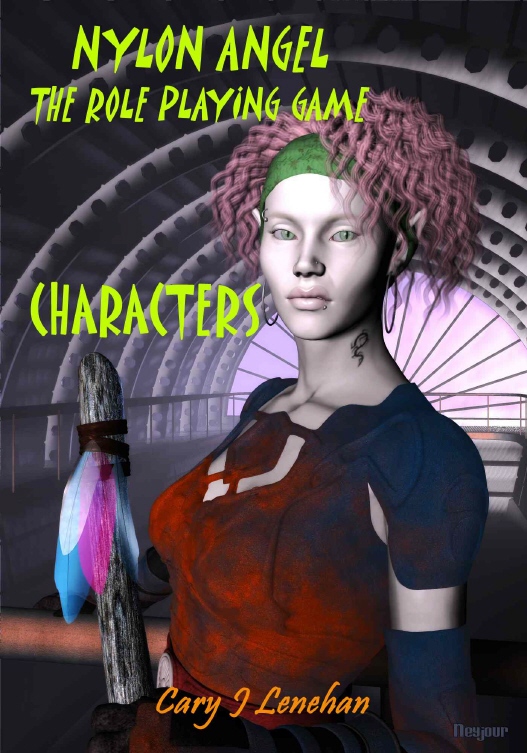 Nylon Angel – The Role Playing Game is a fantasy-future RPG set in a near future, cyberpunk Australia. Suitable for a referee and one or more players, this is table-top role playing with six and twenty-sided dice and needs no computer.
Developed and Produced by White Mice Games

Box Art and Referee Guide images by Catherine Geaney
Rules and Characters cover images by Christina Roberts (Neyjour)
Internal sketches by Cassandra Lovell
---
Reviews
RPG Net says: "White Mice Games look like they are well on the way to becoming Australia's next "biggest thing" in gaming, having launched this game. This is a not a game for beginners or those unfamiliar with the Parrish Plessis novels. It is very much adult-orientated and in all aspects faithful to the novels. The game is well-presented and playable, with logical separation of the rules, referees and characters information into three different booklets. This game is obviously a labour of love and that has been reflected in the attention to detail in the notes on the setting, the rules for combat and the care taken with the overall presentation. A definite must for Parrish Plessis fans."
"This is the best set of rules that I have seen to simulate what actually happens in real combat." Former Special Services soldier.
"Set in Australia…Nylon Angel The RPG will give seasoned and new players who like the Cyberpunk genre, enough game time to play a new game every week for over a year." Pyramid, Steve Jackson Games.
"Nylon Angel: The Roleplaying Game is a refreshing re-think on the post-Cyberpunk genre. The combat is lethal and the setting is a gritty reminder of what Australia could become in only a few decades…the quirky nature of the setting and the sheer scope for carving out your own little niche in the Tert should see you through to determining whether you want to join Daac's crusade, grow your own empire, or simply fighting for the underdograt in true Aussie-style." Read the entire review.
---
Purchase
If you wish to purchase the Nylon Angel RPG then please contact Marianne through the site contact form on the ABOUT page.