Joelene Pynnonen
Joelene Pynnonen embraces the life of an avid book lover in every way. Her household is ruled cruelly by a wrathful cat; and should a fire ever start it is doubtful that she would make it past the elegant stacks of novels to her room door. At least once a year she coerces her mother into watching the BBC mini-series ofPride and Prejudice with her, and will often follow up by re-reading the book.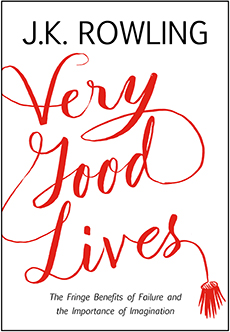 In 2008 J.K. Rowling delivered a commencement speech at Harvard University. Very Good Lives is that speech, published for the first time in book format.
By turns funny, insightful and inspirational, this is the perfect book for any person starting a new chapter of their lives. Like Dr Seuss's Oh, The Places You'll Go; Very Good Lives is the kind of book that I want to leave on my bookshelf and revisit whenever life becomes stressful. There are so many beautiful turns of phrase; so many gems that you'll want to remember when the world becomes frightening.
Very Good Lives is a beautifully presented book. Illustrations by Joel Holland adorn the pages, all of them in a tasteful black, white and red colour scheme to match the cover. Rather than distracting from the importance of the words, the simple, stylized illustrations highlight the more important parts.
Some people have been disappointed by how short this book is. I think it's astounding how much Rowling has managed to say with so few words. Any longer, and I think the book would lose some of its power.
Divided into two parts, the book begins by stressing the importance of failure. This is ground that has been covered before, though perhaps not with so much understanding and humour as Rowling shows.
The second half of the speech – the part where Rowling emphasises the importance of human imagination – is the part that I love. I could read it over and over. Instead of extolling the virtues of imagination for one's own benefit, Rowling links the worth of imagination to empathy and compassion for others.
Rowling's focus in her speech isn't self-improvement so much as it is societal improvement. It's about stepping away from yourself and your own experiences to try to understand the viewpoints and lives of others. Ultimately it is about caring for the world and the people around you rather than stagnating in the narrow slice of life that each human is born to.
Very Good Lives – J.K. Rowling
Little, Brown and Company (April 14, 2015)
ISBN: 9780316369145