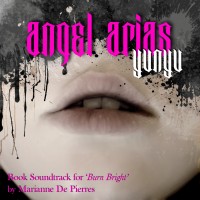 When life is more of the same, reviews that drop from Internet heaven are the best. First here's one for Angel Arias – the song, written and performed by Yunyu to act as a companion for Burn Bright:
Angel Arias + Burn Bright (book) = Pure Brilliance
by Firelighter18
I can't rave more about this song if you've never heard of Yunyu I would recommend buying this song as it gives you a fantastic taste of what Yunyu has to offer in her music. If this is your first time hearing her I would also suggest buying Lenore's Songand You Are Expendable both are simply excellent!
This song perfectly captures the book Burn Bright by Marianne de Pierres I would recommend to you the novel as well it's very dark,strange and gothic but a magnificence story to read with strong character's and an amazing world that is unforgettable and it's by far my favourite series to read. ; )
Then there's Colleen Cahill's lovely review for Glitter Rose which happened to coincide with another fabulous review that appeared on Shock Totem.
To round it off, Musings of a Hobbyist talks about Dark Space.