Joelene Pynnonen
Joelene Pynnonen embraces the life of an avid book lover in every way. Her household is ruled cruelly by a wrathful cat; and should a fire ever start it is doubtful that she would make it past the elegant stacks of novels to her room door. At least once a year she coerces her mother into watching the BBC mini-series of Pride and Prejudice with her, and will often follow up by re-reading the book.v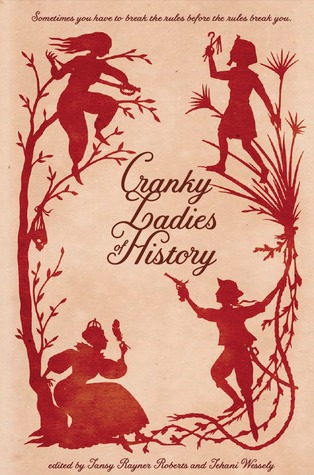 As the title suggests, Cranky Ladies of History is an anthology of short stories revisiting some of the great women of history. Those facing adversity and refusing to be bowed by it. Some of these women – Elizabeth the first, Elizabeth Bathory, Mary Wollstonecraft – are easily recognizable. Others are less well known but no less noteworthy. Penned by an array of brilliant authors, including multiple award-winning authors Garth Nix and Juliette Marillier, this is a collection to be savoured.
For several months I've been following the blog, Rejected Princesses. Devoted to telling the stories of girls and women who don't fit the mould Disney would require for its princesses, it has some amazing tales of women from myth and history. These women are violent, brave, stubborn and demanding, but never dull. Therefore I was delighted to find that many of the stories I'd read on the blog have also been included in the pages of Cranky Ladies of History. Many other stories are new to me, and some are tales that most people know set in a perspective not often used.
While all of the stories in the anthology are fascinating, two in particular stand out. Sylvia Kelso's Due Care and Attention, and Joyce Chng's Charmed Life. Both of these stories are remarkable in that they portray women being women. Rather than trying to toughen up to fit into a man's world, the central characters in these stories focus on improving the daily lives of those around them. Their stories are of creation rather than destruction.
In Due Care, Dr. Lilian Cooper uses her medical knowledge to serve the people in her community – particularly those who cannot afford medical attention. Like all the women in this collection, she has a temper – but her ire rises when local laws seek to keep her from offering timely medical aide.
In Charmed Life, Empress Leizu laments the idleness of her life until she realizes that she might be able to make a difference in the lives of her people and, in the process, lighten the workload of the women around her.
Both tales focus on relationships between women, reinforcing the point that women have always fought the restrictions placed on them.
The supernatural element in Cranky Ladies is the only thing that weakened an otherwise wonderful anthology. It didn't occur in more than one or two stories, but putting in events that were so obviously mythology rather than history fuels doubt of the veracity of all of the stories. And there have been enough amazing women doing fantastic things that adding magic isn't necessary for a good story about them.
Most of these stories are gems, some featuring well-known historical women, though many not. It was the lesser known figures that sent me on searches of the bits that the story left out. Having been introduced to so many amazing historical figures in this anthology, I only wish it had been longer.
Cranky Ladies of History – ed. Tehani Wessely
 FableCroft Publishing (March 2015)
 ISBN: 9780992553456