There's something very compelling about survivor stories. Probably because we all have moments when we wonder what we would do if … any number of things happened to us.
In this new series hosted by Charisma Carpenter, we get to hear  stories from women who've survived violent attacks.
The series begins with Charisma's own personal recount of fighting back when she and some friends were attacked in San Diego by a then police officer.
You only have to spend a moment speaking with Charisma (and her wonderful mum) to know that she's a woman with enormous spirit and perfect to host this kind of show. I wish her the best of luck with it, I have a feeling it will be incredibly successful …
SURVIVING EVIL (from TV Mole)
Featuring dramatically and emotional stories of women who fought back against their attackers and survived against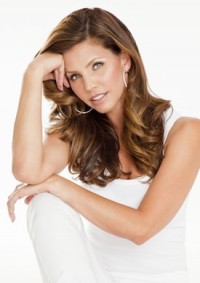 amazing odds, SURVIVING EVIL is hosted by Charisma Carpenter (Cordelia Chase on Buffy the Vampire Slayer and its spin-off Angel.) Carpenter is the survivor of a real-life incident that she endured more than 20 years ago and the series begins with her story. The actress and two friends were swimming at San Diego's Torrey Pines State Beach in 1991 when they were violently attacked by an armed, rogue police officer. Carpenter fought for her survival after being held at gunpoint, but her two friends were both shot by the attacker and seriously wounded. The police officer was sentenced to 56 years in prison for the attacks in addition to a series of rapes and robberies.
"It's about empowerment, about victims who take fate into their own hands and rescue themselves, or seek justice and find it," Carpenter says of I Survived Evil's mission. "It's about heroes, stories of survival. And happy endings."