I can't remember who recommended this – I think it was one of my Twitter TV buddies. Whoever it was … thank you!! It was quite regularly a confronting series, filled with characters who teetered on the edge of being quite unlikeable – but not quite. This, of course, is just the way I love them cooked!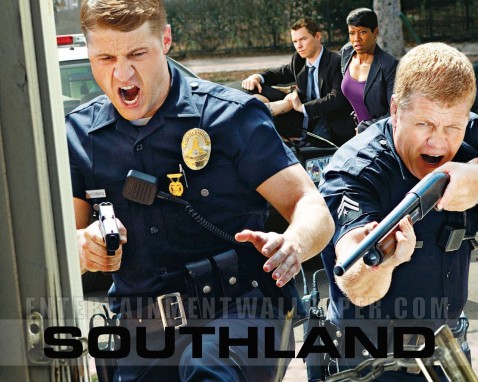 Here's the wiki blurb:
Southland takes a "raw and authentic look" at Los Angeles and the lives of the LAPD officers who police it. The show's first season centers on the experiences and interactions of LAPD patrol officers and detectives, and is more a character-driven drama than a police procedural.[14][15]
Among the characters are rookie Officer Ben Sherman and his training officer, John Cooper who, unknown to most of his colleagues, is homosexual; Detective Lydia Adams, who must balance work with the responsibility of living with her mother; Officer Chickie Brown, who aspires to be the first woman on the LAPD's elite SWAT team; and Detective Sammy Bryant, whose home life interferes with his working life.
Aside from the outstanding casting, the script was full of energy. It was a very visceral show that tied my stomach in knots.   Earlier in the year, I stayed in the general area where the series was filmed and that added a whole other dimension of meaning for me. I'd love to know how someone who actually lives in South LA, found the show.
Favourite characters were (Regina King as) Lydia Adams and (Arija Bareikis) as Chickie Brown; both strong, survivors in a violent and largely masculine world. Michael Kudlitz as John Cooper was a tour de force as the tough gay officer, and Ben Mckenzie (as Ben Sherman) and Shawn Hatosy (as Sammy Bryant) absolutely nailed their parts. Though wonderful, it was hard for me to truly love any of the male characters – there was too much underlying brutality about them. That did not lessen my enjoyment of the show though.
The final series was a poignant depiction of Sherman's declining morality and Cooper's growth and self realisation. I was sad to see it end in a bittersweet kind of way.
Thumbs up for the filmic style, acting, casting and writing.