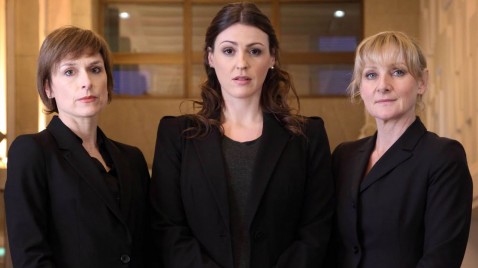 Among a plethora of great contemporary TV shows Scott and Bailey is one of the best. A brilliant, brilliant, BRILLIANT cop show about two female detectives and their female boss.
As I mentioned in a previous post, some criticism has been levelled at the show for portraying the male characters as either useless or devious. Although I can see why some viewers might react that way, it seems to me that all the characters are shown to be flawed and that female leads are no exception. Rachel (Suranne Jones) is prickly and defensive and inclined to be self destructive with booze. Janet (Lesley Sharp) is compassionate and reasonable but bored with her husband who she takes for granted and ultimately cheats on. Jill (Amelia Bullemore) is a tough, unsympathetic, no-nonsense but brilliant detective. The three women experience their highs and lows together and have their true selves exposed in moments of great weakness. What makes them appealing is the strength of their friendships and their ability to forgive and support each other. In Scott and Bailey, a spade is most definitely called a spade.
The Daily Telegraph describes the show as "a beautifully engineered programme: it's both pleasingly sudsy and deliciously grisly, but manages to transcend both the soap and detective genres."
I've found it so much more realistic, funny, interesting and engaging than many of the shallow, formulaic cop shows being churned out. We're still waiting for series 3 here in Australia, and I've had to join the Scott and Bailey Twitter fans to keep up with the news – @S&BTV
The theme music is the bomb! Check it out below.