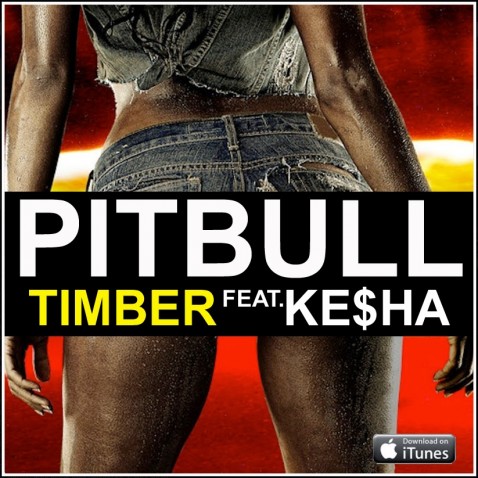 It's. About. To. Go. Down. ~ Pitbull
With 39 million views on YouTube, Timber has well and truly gone down! This song is an irresistable dance track which brings some serious energy with it.
For the video though, they clearly couldn't get Kesha and Pitbull in the same place to film. The outcome is an odd, mashed-together dance sequence. Kesha, posing in and around a saloon in her boots and best fingernails, supported by a cast of female dancers whose shorts got ravaged by werewolves.
And Pitbull, channeling Fred Astaire with a beautiful, adoring woman on an impossibly idyllic coral atoll, interspersed with dives into the water to swim among sharks.
Was that meant to be a sign of his daring and bravery, or did I miss some symbolism? (Oh, and there's that random pig swimming by! What's up with that?)
The whole thing is weirdly disjointed for sure, but I tell you what … the clip beats the hell out of Kayne's catastrophic disaster, Bound 2 (which leaves me speechless) – aha, honey! Despite it being only semi-original, I say thumbs up to the remix/reinvention of Timber, and the bootscooting.
And thumbs down to the girls wearing microdots, and the fact that the two singers couldn't be arsed getting together to make a cohesive clip. Wiki says: The song was produced by Dr. Luke, Cirkut, and Sermstyle, with additional production by Nick Seeley. The song interpolates "San Francisco Bay" (1979) by Danish harmonica player Lee Oskar, which was written by Lee Oskar, Keri Oskar, and Greg Errico. "Timber" features harmonica player Paul Harrington of Rockwall, Texas, who plays through the entire song. 
And yes, I downloaded it!
Here's the original harmonica by Lee Oskar that Pitbull had Harrington emulate in his song.