You can't get any further down than the bottom of the world than Antarctica. Cold, desolate, nothing but ice and snow for miles and miles. Carrie Stetko is a U.S. Marshal, and she's made The Ice her home. In its vastness, she has found a place where she can forget her troubled past and feel at peace…
Until someone commits a murder in her jurisdiction and that peace is shattered. The murderer is one of five men scattered across the continent, and he has more reason to hide than just the slaying. Several ice samples were taken from the area around the body, and the depth of the drilling signifies something particular was removed. Enter Lily Sharpe, who wants to know what was so important that another man's life had to be taken for it. But are either of the women prepared for the secrets and betrayals at the core of the situation?
Paperback, 128 pages
Published April 15th 2001 by Oni Press
ISBN   0966712714 (ISBN13: 9780966712711)
I am going to openly state that I think you should see the movie. First Kate Beckinsale is pretty cool and she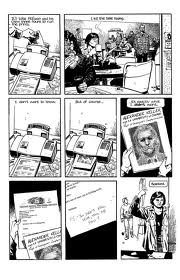 does a great job of playing this role.
The book is all done in black and white pages. It helps enhance the the feeling of the complete cold and desolate continent that Antarctica is.  The storyline is pretty intense, Carrie Stetko is a strong female character that gets put through a lot of scary shit as the story progresses and with the added danger of being one of the only females in a isolated place with some very dangerous activity happening, she really does hold her own.
At 128 pages it took me awhile to get through, there is a lot of activity happening and quite a bit of detail and dialogue as well as the illustrations to carry the story along.  The storyline is one of the most dense and intense that I have come across in a Graphic Novel.