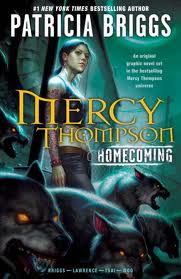 by Patricia Briggs, Francis Tsai (Illustrator), David Lawrence, Amelia Woo (Illustrator)
Hardcover, Graphic Novel, 168 pages
Published August 25th 2009 by Del Rey/Dabel Brothers

Mercy Thompson is a walker who can shape shift into the form of a coyote. In Homecoming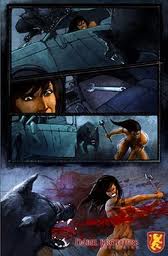 she fails to get the teaching job she has traveled to get and ends up in a town in which the werewolves are in the middle of a gang war.
Not wanting to get caught up in the mess, she takes on a job as a car mechanic that was offered by the 9 year old boy who runs the place. Between the two of them they consider themselves likely enough to fix most car problems.
Eventually, between the vampires and the werewolves and her being new in town, she gets caught up in the mess. There is a lot of fighting, and most of the fighting that involves her is when she has shifted, so she's naked, using whatever tools she can find around to defend herself.
There's not a lot of dialogue in this particular book. It is mostly visual story illustrations. The front cover indicates that she is covered with tattoos but the inside only shows a few, one small wrap around on each arm and her belly. I'm not exactly sure why the cover art is different than the comic inside. I would have liked just a little bit more dialogue, but the full colored glossy pages made for an intense and interesting story.