Use the appropriate twangy intonation with that …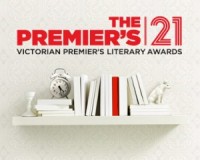 Just saw the judges report from the Victorian Premiers Literary Award and Burn Bright was given a very nice mention. Here is the full transcript of the YA section from their website:
The judges for the Prize for Writing by Young Adults – Mike Shuttleworth (convenor), Leesa Lambert and Andrew McDonald – noted:
"The universe of young adult literature continues to expand in interesting and exciting ways. This year's Victorian Premier's Literary Award is an opportunity to assess some of these developments – in particular, those books that express and explore the specific aesthetic potential that writing for young people affords. This year, 68 titles were submitted to the award. The committee noted the continuing publication of nuanced realistic fiction, especially dealing with the intersection of identity, gender, family and community. Also evident is the emergence of urban fantasy. We applaud those authors whose work seeks to develop a unique voice and identity within the urban fantasy genre.
"A shortlist of just three titles cannot fully represent the developments and tensions within the broad field of Australian young adult fiction. We therefore note the following titles as important achievements in a year of quality writing and lament that that the shortlist is just that. Inspired by Charles Blackman's paintings, The Golden Day by Ursula Dubosarsky beguiles readers with a haunting story of memory and loss. Scot Gardner's chiseled writing charts the dramatic life of a marginalised young man in The Dead I Know. Rebecca Burton's closely observed story of obsession and desire in Beyond Evie and Laura Buzo's assured debut Good Oil point to writers with a serious future. Lili Wilkinson showed a light touch, exploiting the tropes of domestic crime fiction in A Pocketful of Eyes. Leanne Hall's debut novel This is Shyness introduces a boldly imagined world of dark urban fantasy. Rebecca Lim's impressive novel Mercy blurs a realistic world with a story of angels and romance. Marianne de Pierres' novel Burn Bright also tells a dark, dramatic story with arresting literary skill.
"Final decisions were not in any way easy, however, the panel agreed warmly on three shortlisted three novels. Each of these novels takes risks with the form of storytelling, show exceptional control of the material, and in doing so challenge notions of what fiction for young people can be."
Congrats to all involved. Have to say, I'm rather chuffed about this. 70 entries for the YA section suggests that the YA market is in good shape.