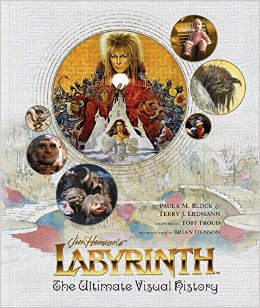 It might surprise some readers to learn that Jim Henson's extraordinary fantasy vision, Labyrinth, was a box office bomb. Released in 1986, it was the last feature film the creative giant would direct before his passing in 1990. Since then, however, the musical fantasy has attracted its own enormous fandom and now enjoys bona fide cult status. This year marks the film's thirtieth anniversary and Insight Editions has compiled a lavishly illustrated and richly detailed hardback companion book that explores the creative process through the eyes of the costumers, designers, and artists whose combined efforts brought Henson's dream to life. The gorgeous edition features a foreword by Toby Froud (who was cast in the role of baby Toby Williams and is the son of the film's conceptual designer, Brian) and an introduction by Henson's son, Brian, who is now the chairman of the Jim Henson Company.
The book is divided into four parts: Inspiration, Characterization, Realization, and Summation. The first section covers the project from a creative seed through to script writing and puppet making stages. Based on British fantasy illustrator Brian Froud's concepts and executive-produced by George Lucas, Labyrinth's original screenplay concept was delivered in the form of a type of 'poetic novella' by Canadian poet, Dennis Lee (Alligator Pie, Fraggle Rock). During its development, the script was to famously undergo several iterations (estimated at around twenty-five). The first screenplay was penned by Python luminary, Terry Jones, who admits that his 'best contribution was just starting off something that the puppet-makers made much better and improved.'  Following Jones' initial draft and some tweaking by Henson, Fraggle Rock writer, Laura Phillips, was recruited to rework the material until it was structurally sound and more closely aligned with the emotional journey Henson had envisaged. Further alterations were made by Jones and Phillips in turn refined his revisions. Still unsatisfied, Henson called upon renowned script doctor, Elaine May, (Heaven Can Wait, Reds, Tootsie), who worked quickly to add humanising touches that also resulted in the character of Sarah being more authentically rendered. The final script was dated April 11, 1985. Astonishingly, principal photography was to commence in London only four days later, on April 15.
The Characterization section covers each of the major players and kicks off with an overview of David Bowie's character, Jareth the Goblin King. The section includes behind-the-scenes set shots of Bowie and Jennifer Connelly (Sarah Williams) interacting with fellow cast members, taking direction from Henson, and rehearsing scenes. Interesting detail is provided about the other actors who were also initially considered for these central characters, as well as the reasoning behind the final casting choices. The development of the 'puppet creatures' is explained, from concept art through to creation, manipulation, and effects.
The Realization section describes the elements involved in production and filming, from Henson's Creature Shop workings, costume making, choreography, and performance through to soundtrack composition, photography, effects, and editing. Interviews with members of the cast and production team create a vivid history of the experience and reveal trivia, tidbits, and anecdotes that will fascinate fans. The challenges of shooting various sequences (Shaft of Hands; Bog of Eternal Stench; Ballroom Scene; Battle of the Goblins) are outlined in interview snippets from Brian Henson, who vividly recollects his time on set, George Lucas, Jennifer Connelly, production designer Elliot Scott, storyboard artist Martin Asbury, and other members of the creative team. Summation nicely rounds up the post-production details. George Lucas shares his recollections of editing the film, which he acknowledges as not being a 'mainstream big hit' but 'a really good movie… a niche movie … eccentric'. Final touches, such as the opening and closing sequences involving the owl, are even explained in detail. The film's initial reception, enduring popularity, and massive following are discussed, as are the untimely deaths of Henson and Bowie. Finally, Cheryl and Lisa Henson (Jim's daughters), George Lucas, and Jennifer Connelly share touching recollections of working with Jim Henson and acknowledge his creative legacy.
This 'ultimate visual history' certainly lives up to its name. In addition to the countless sketches, still shots, costume photos, and concept art that fill every inch of its pages, the book is also filled with a wealth of removable plates that give it a unique scrapbook feel. These include costume sketches, production notes, script excerpts, staff memos, and storyboards. Unquestionably the definitive Labyrinth history, this 30th-anniversary release is an absolute must-have for fans of one of the best-loved fantasy films of all time. 
Jim Henson's Labyrinth: The Ultimate Visual History
Paula M. Block & Terry J. Erdmann
Foreword by Toby Froud
Introduction by Brian Henson
Insight Editions 18 October, 2016
192 pages
ISBN-10:1608878104
ISBN-13:978-1608878109