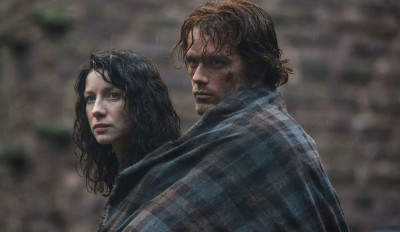 So part two of OUTLANDER's first season hit the shelves in Australia this week. I have to admit to the fact that I've been counting the days. Though always a bit of a fan girl at heart, this series has seen me engage in some embarrassingly lame behaviour. Confession number #1.
Anyway, to the show… So things continue to fluctuate for Jamie and Claire; moments of good will, peace and happiness punctuated by betrayal, abject fear, and hard-to-watch violence. At the heart of it all is the love story between them and the destructive force of Black Jack Randall whose obsession with Jamie culminates in the most powerful moments I've ever seen on television or film.
I don't really want to recount the story, you can get that from any number of reviews and blogs. I'd prefer to talk to you about my reflections on the power of the storytelling.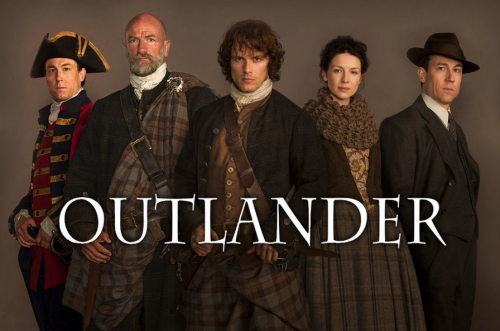 When I first started watching SONS OF ANARCHY a few years ago, I was compelled by its fearlessness. OUTLANDER stands apart from other TV fictions in the same way — because of its willingness to go to emotionally difficult places. It conveys a sense that there has been an honest and very real attempt by everyone involved in the production to make something barefaced honest and heartfelt; something lovingly detailed and rich in characterisation. Where SONS OF ANARCHY lost me, in the end, was its lack of balance, and its unrelenting male viewpoint. Jax Teller displayed no emotional intelligence or growth; he gave me no hope, and, therefore, no reason to go on.
That's where OUTLANDER is a different beast; it offers both balance and hope. I believe the ebb and flow of Jamie and Claire's fortunes has an important and authentic rhythm to it within the hyper reality of the story. And that rhythm is interspersed with moments of dry wit and humanity: the easy and rough comradeship between the Rupert, Angus, and Willie; Murtagh's loyalty to Jamie; Laoghaire's jealousy; Mrs Fitz's irrepressible motherliness, Colum's intransigence; and Geillis's whimsy. All the little moments in between the big ones are just as right and important.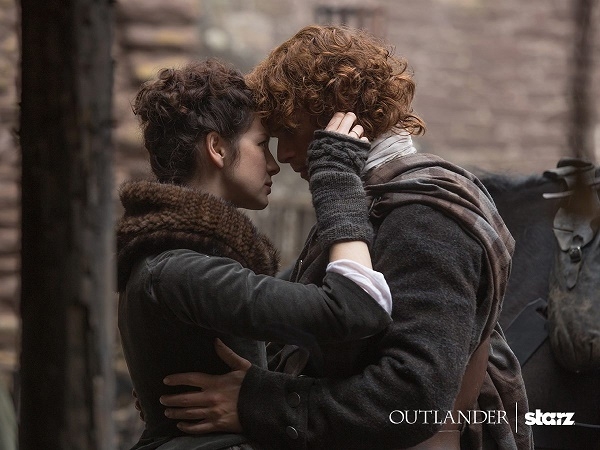 But the big ones…well…
Geillis and Claire's "witch" trial is a terrifying portrayal of mob mentality and the power of superstition, and those scenes had me wincing on more than one occasion.
But Jamie's imprisonment and torture by Black Jack is simply very hard to write about. Ignoring the fact (as Mandy pointed out to me) that we don't ever really understand why Black Jack is the way he is (how does a sociopath get to be who they are?), the quality of the acting, the imagery, the setting, the circumstances combine to transport the audience. While Tobias Menzies is undeniably superb as Black Jack, my deepest admiration goes to Sam Heughan who totally went to that dark, dark place. His acting is sublime because it almost isn't… acting that is. He's as close as an actor to get to that other reality – that space where the transference between fake and real occur. He dwelt there for a time, supported by the team around him, creating true fictional magic. Bravo to everyone involved!
Yet having said that, I actually had to watch those scenes from behind my hand, trying to put some distance between myself and the emotions it evoked. Confession #2.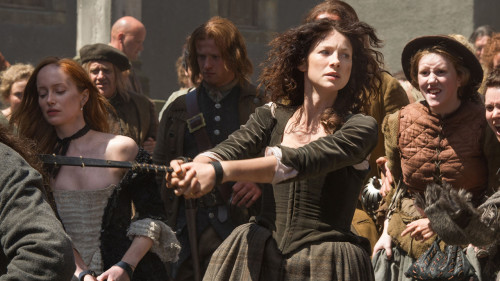 OUTLANDER's also got me wondering a lot about what it is that makes a truly passionate and enduring romance so appealing — so satisfying — to so many people (men and women), and what it is that has prevented me, as a writer, really exploring that dynamic in my own prose.
Honestly, I think I've been a coward about the romances in my own books; afraid that writing a romantic story was a surrender to patriarchal programming, to stereotypes, and to the perpetuation of a myth that is nether real nor likely attainable for most. I've dabbled around the edge of it, but never committed.
You know, I think I've been wrong. Confession #3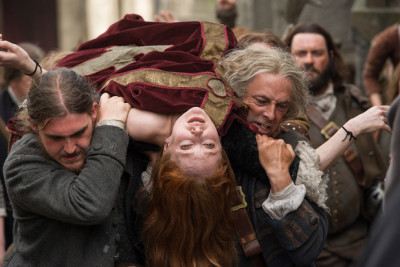 Recently I asked my numerous Facebook followers if they believed in a one, true, meant-to-be-together, enduring love. The answers were quite varied, and yet a good percentage believed that such a thing did exist, and those who didn't gave me they underlying sense that they wished it was. It seems that people truly crave that special connection with another human. Not something temporary and gratifying, but something deep and enduring.
Ronald D. Moore's adaptation of Diana Gabaldon's work is a fierce endorsement of this same belief (to this point in the story anyway). In fact, it is fierce in every way: passionately, physically, politically, morally, and emotionally. But more than anything, it clings to hope in its many and varied forms. I don't know about you, but I need stories that do that.
It's going to be a long wait until April next year when season 2 is released. By then my DVD's will be well loved from repeated watchings, which, as someone who doesn't ever revisit the same story, is the highest accolade I can give.
Escapism doesn't get much better than this!