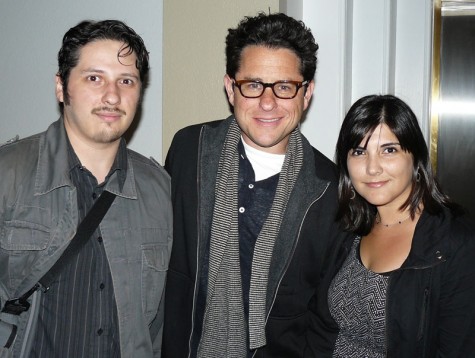 Tell us how the Spotlight Report came about?
I think it was back in 2009, a day before the world premiere of Star Trek in Sydney when we bumped into one of our personal idols, Director JJ. Abrams (creator of Lost, director of MI3, Cloverfield, Super 8 and Star Trek) and his mate from Bad Robot, producer Bryan Burke. Both of them were walking around Circular Quay checking all the preparations for the premiere. That day we not only met them both, we also had the honour of being invited by them to the actual premiere and to walk the red carpet as we talked, for like, 20 minutes. Bryan was laughing because he never thought he will meet another Jorge like Lost's Jorge Garcia. After the premiere, (which was a dream for us, because we met the whole cast there alongside many fans, with a friend of ours who currently is a collaborator of the site) we started thinking in how hard was to find information about all the movie premieres, meet and greets, in stores, etc online. We wanted people to share that amazing experience of meeting their idols. We also spoke about how current 'entertainment websites'were pretty much about celebrity gossip, being all very plain and similar. After a long time brainstorming, the name Spotlight Report was born and we promised ourselves that our site would be made by fans for fans … and that is what makes us different.
Do you have a specific focus for the site? Or a mission, if you like?
Firstly, it is about being a hot source of entertainment information, including all the upcoming movie premieres (with potential celebrity encounters), concerts, in stores, parties, etc. Also, it's making a community of fans and meeting as many of them as possible at events. Moreover, every time we cover an event, we go to the fans and we take pictures of them. We ask them if they have questions for the celebrities so we can ask them. Our aim is not to be like other sites asking repetitive questions during interviews, like "what brand of shoes are you wearing?" or "what scared you when you were a kid?" (yep journalists ask those things to stars in the middle of movie premieres!) That's why our slogan "made by fans for fans", because we think that at the end of the day, fans and the general public are the ones who make the stars what they are – because that are the ones paying the tickets, camping long hours at movie premieres or concerts to be close to their idols, etc.
What are your plans for the site in the future?
We want to have more 'On the Spot' posts because they are the posts we enjoy the most. That's why we are launching our section 'fans on the spot' where, if we spot a Spotlight fan at a premiere or event, we give them a prize. It has been so much fun doing that and we've met tons of lovely people. Overall, we wanna be more interactive with our public. Also we wanna do more interviews on video. We were a bit shy at the beginning to be on camera, because we are not native English speakers and we thought some people would hate our accent. But after our very first full video interview last year with Guns n`Roses drummer Matt Sorum, which was a total hit, we got very confident because of the positive feedback on facebook, email and YouTube. So we have been trying to push a bit more for video interviews, but is harder than you think. It's much easier to get a media spot for a phone or audio interview.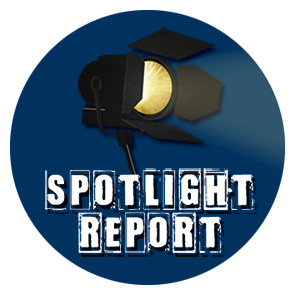 Who is the most interesting celebrity you've interviewed?
Hard question … We interviewed J.J. Abrams when he came back to promote Super 8, that was super special because he remembered us and was as nice as usual, very talkative and a total genius in what he does. We just love his filmmaking style. We also liked our interview with Matt Sorum from Guns n Roses and Velvet Revolver, as we sat down for a coffee with him for like 15 minutes, and he just gave us great answers, and told us tons of stories about the Gunners – even giving us an exclusive confirmation on a rumor regarding the new Velvet Revolver singer.
Simon Pegg, was also great … such a funny and talkative guy. Hugh Jackman, who despite his status of mega-star, is the friendliest guy you can ever meet, and he doesn't care of how much people with him rush him during the premieres, he likes to chat and gives great answers … we even spoke about footy. And just to finish, recently we quickly interviewed Robert Englund (Freddy Krueger) and he was the nicest serial killer we've ever met. Definitely one of our favorite interviews, as we spoke with him as fans, and not really as journalists. He even recorded a greeting for the site, Freddy Krueger's style.
Who would you love to interview?
Hard one … there are too many names with regard to films. We would love to interview Steven Spielberg. He is one of our top 1 film directors ever! And speaking about actors we would love to meet and chat with legends like Jack Nicholson, Robert De Niro and Al Pacino. We tried our best when Pacino was in Sydney, but he was not doing any interviews … we still got to meet him after his show and was a really nice and quiet guy. In music, the list is harder! Eddie Vedder from Pearl Jam or James Hetfield from Metallica are our top runners for a chat, followed closely by Paul Mcartney, Steven Tyler and Mick Jagger…looks like mission impossible, but you never know!