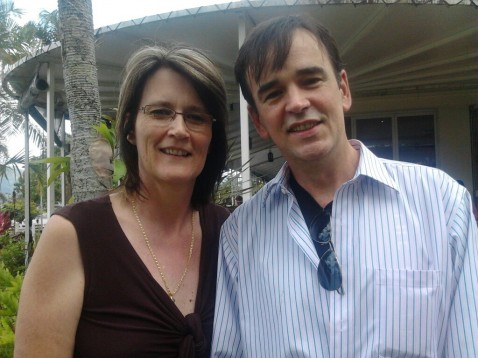 Those of you following my FB and Twitter feeds know that I had a really enjoyable time in Cairns. I was kindly picked up at the airport by Hettie Ashwin and taken to Rydges Tradewinds.
Friday night was the launch cocktail party where I met some of the Tropical Writers, and then headed off to dinner with my friend Bernadette who I haven't seen in five or so years. Hip little cafe and good food.
Saturday was a very full day; a three hour workshop (and they were an interesting, lively bunch), a panel on writing for young adults and children, launching Hettie's book The Mask of Deceit and attending the literary dinner. Matt Reilly made a great keynote speech about retaining passion for what you do and afterwards I stumbled into bed.
Sunday was less hectic. The Big Book Club panel was very stimulating – we discussed Salvage the Bones by Jesmyn Ward, Cold Grave by Kathryn Fox and Memoirs of an Imaginary Friend by Matthew Green. I have to say that Salvage the Bones was like reading something by Margo Lanagan – the use of language and the deeply personal insights. A truly splendid book. We also agreed that Kathryn Fox was doing a great job raising awareness of social issues and that Green's novel will make a touching movie.
Collins booksellers did a fab job (had all my books) and all the organising committee were very helpful throughout.
Once my offical duties were finished I got to sit and talk stories, TV, comedy and the revolution with Tim Ferguson – definitely one of the weekend's highlights for me. Hettie then deposited me back at the airport (thanks Hettie!), and I got to watch five epsidoes of Big Bang Theory on the flight home on the swishy new Qantas jet.
Thanks for having me Tropical Writers!