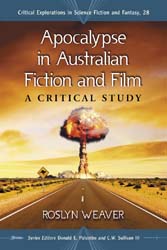 Details of my evening at the Ultimo Library are now up on the What's on City of Sydney site, March 21st, 4-5pm. Love to see you there, if you can make it!
This is part of my Sydney tour and I'll also be at Galaxy Books and Kinokunyu. The very cool thing is that Yunyu will be coming to these events so you'll be getting a two for one deal. We'll also be playing the single, Angel Arias, in its entirety on those nights.
BUT before that all happens, a reminder of the Coolshite, Yunyu, MDP podcast is coming up on March 7th. Tune in to win giveaways and listen to the premiere of the song, Angel Arias.
And some news that's very exciting to me is that Ros Weaver's book, Apocalypse in Australian Film and Fiction is now available from McFarland Academic Publishers.
Ros says, "The whole last chapter is on Parrish [Plessis] in the context of cyberpunk and apocalypse, so there's a section on cyberpunk, then about 20 pages analysing the books (interspersed with theory)."
I've ordered my copy and can't wait to read it. Not only because Parrish is an example but because if I'd done a PHD I would have picked a similar topic
.