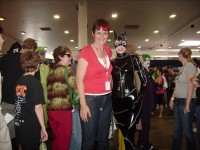 Where to start. Ok … well … record numbers for the weekend which meant lots of people to talk to and difficulty getting from 'a' to 'b'. Saturday I had a stomach ache all day which made me a tad grumpy, but the good company cheered me up. My panel with Rowena on The Author as a Brand was well attended and the audience had lots of good questions. I got to chat to Charisma Carpenter who I love to bits (sad her mum didn't come too). The green room was packed with happy talkative guests and I enjoyed a few words with Tahmoh Penikett about Vancouver and the lovely Leah Gibson who is one of the most beautiful souls I've ever met.
Survived the stomach pain thanks to Trent Jamieson having some panadol and went back to the hotel to get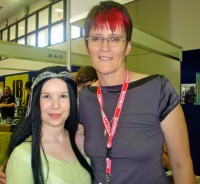 ready for the cocktail party. More good conversations with Ian Irvine, Lionel Midford and Peter Budd that evening. Then home when my voice began to hurt from shouting over the music.
I felt good on Sunday which was a relief and had fun watching the amazing cosplay. As you can see Catwoman and I had a moment. Other standouts for me were Captain Jack, Predator, Darth Vader and some of the steampunk. I also got a chance to finally speak to Robin Hobb, who is a charming lady. The day finished with a solid chin wag with Jenny Fallon about writing things. More thoughts when I get the rest of the pictures.