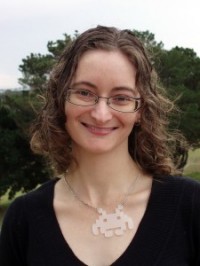 Tanyana is special. Her career as an architect – a pionner – makes her one of the most highly regarded people in society.  By manipulating pions, the particles that hold all matter together through a blend of ritual and innate talent, Tanyana and her team are working on a giant construction; a prestigious statue named Grandeur in the city of Movac-Under-Keeper. And then something goes wrong. Tanyana is left injured, humiliated and without the ability to see or manipulate pions. She is cast into a world quite the opposite to what she knows – that of a lowly Debris collector.
Tanyana is denied justice at every turn. No one wants to know or listen to her; no one wants to be the one to help her find who – or what – caused her fall from grace. Her critical circle, the nine skilled binders who worked below and in harmony with Tanyana have abandoned her, and sinister undercurrents sweep and still her every movement.  Money ebbs from her bank account, the mysterious collection suit (and its creator) she finds is now part of her physical being is without explanation or an instruction booklet. Blank-faced 'Puppet Men' are watching, but no one can tell her why, or who they are. Not only is she is shunned by the society she once knew, she's not exactly accepted with open arms by the debris crew she's allocated to. Tanyana is alone, lost and powerless.
Debris collectors are the lowest of the low in the country of Varsnia, but without them, debris – the waste product left behind by pions – threatens to cause some serious damage. It's when Tanyana finds her feet as a collector that this story really amped up for me. The relationships between the collection team are cautious and real, they trust each other but are innately suspicious of Tanyana – she represents everything they're not. Each team member is drawn extremely well, and it's easy to care about them very quickly, particularly the mystifying and childish Lad. The relationship Lad has with his brother Kichlan is an especially beautiful and intriguing bond; one that I'm looking forward to learning more about.
Debris is an exceptional novel. I have to admit, it's taken me a long time since I finished reading to write this review. There are so many layers (yep,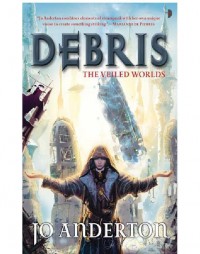 just like an onion only tastier) I wasn't sure where to begin. The physical aspect of Tanyana's fall is the tip of the iceberg; Anderton's observations of society and class system – and then the layers within that system – are written in a way that stays with you long after the story is finished. This is a story that sits somewhere in between fantasy and science fiction with a good dose of steampunk thrown in, but the themes covered and revelations about humanity are decidedly real. I'm a huge fan of a well-built world, and Debris ticks every box. The reader is treated intelligently, there are no over explanations to the workings of this world, just enough to keep you questioning and looking for the drip-fed answers while the action moves at a fast pace around you.
Debris is the first novel from Australian Jo Anderton, but not her first published work; she has a serious sackful of short fiction credits to her name. I for one will be sourcing those short stories to tide me over until the next instalment in The Veiled Worlds (Suited), is available later this year. I can't wait to see what else Anderton's  remarkable imagination has dreamed up.
Debris by Jo Anderton
Published by Angry Robot
Paperback – 408 pages
ISBN – 978-0-85766-153-1